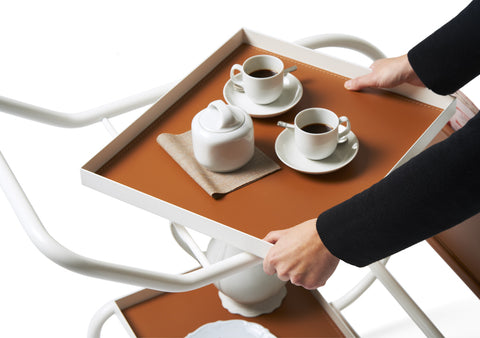 Opinion Ciatti
Zenzero Trolley - OPINION CIATTI
A trolley, a bar cart, an independent workstation… Zenzero is surprising, peppery, engaging, it is hospitality on wheels.
Three steel trays are supported by a sinuous structure made of thin steel tubes, with a convenient pocket in regenerated leather placed on the front, while the handle and pivoting wheels make this inherently nomadic item even easier to move.
Designed to safely contain and transport bottles and glasses, cups and jugs (or whatever tickles your fancy)  Zenzero can turn into a completely independent work station for preparing and serving food and drinks at any time, also thanks to the two practical removable trays.
Functional for breakfast, fun for the aperitif, stylish for an after-dinner liqueur, Zenzero designed by Samer Alameen, is perfectly suited to all contexts where good living is considered a value, as well as a pleasure.
Handy and captivating with its three finishes – minimalist in white, impeccable in dark green, sophisticated in gold leaf – it fits nicely in any environment. Perfect as a working tool to ensure safety and privacy in the most exclusive lounges and refined restaurants, it can also be an attractive fixture for professional practices or private homes.
Incredibly versatile, Zenzero will charm even the most expert and demanding connoisseurs.
Material description :
Matt White with leather
Matt Green with leather
Glossy Gold leaf with leather 
Sizes : 
41 x 72 x H. 81 cm
Delivery time : 
1 week
*products displayed on the website may be subject to stock availability