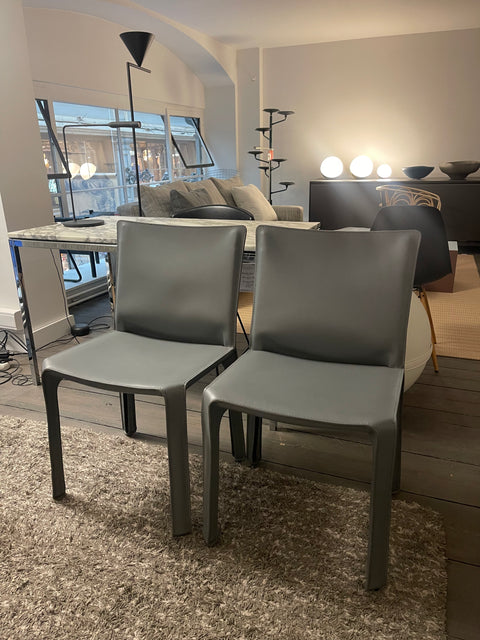 Cassina
Cab chairs (2 pieces) - CASSINA
"This was a new kind of chair, constructed totally out of leather, much cloned since then." Thus Mario Bellini describes Cab, a best-seller that he designed in the 1970s, which is now a signature piece in Cassina's I Contemporanei collection. Cab was the first-ever chair to feature a free-standing leather structure, inspired by how our skin fits over our skeleton. The upholstery consists of sixteen pieces of saddle leather. They undergo fourteen discrete procedures, again by hand. The pieces are sewn together only when their outer edges have been trimmed to ensure a perfect fit. Once assembled, the cover is attached to the chair's steel skeleton and held in place by means of a zipper fastening, as in a bespoke tailored garment. Today this model adapts and expands to meet contemporary needs. It is now available an XL model, 5cm deeper, and a Baby version, made with the same careful craftsmanship. Also available are new Plus saddle leathers in pure aniline, and some versions with a gradient effect by hand on a natural basis.
Material description :
Frame in black coated tubular steel
Seat shell in black plastic material
Upholstery; Flexible cold moulded polyurethane foam
Cover; Leather
Feet; Black plastic material with and without adhesive felt

Sizes : 
59 x 49 x H.45/82 cm
Delivery time : 
2-4 days in this finishing : Grey Leather. 
The 2 piece are sold together.  
*products displayed on the website may be subject to stock availability 
**Sales on showroom model