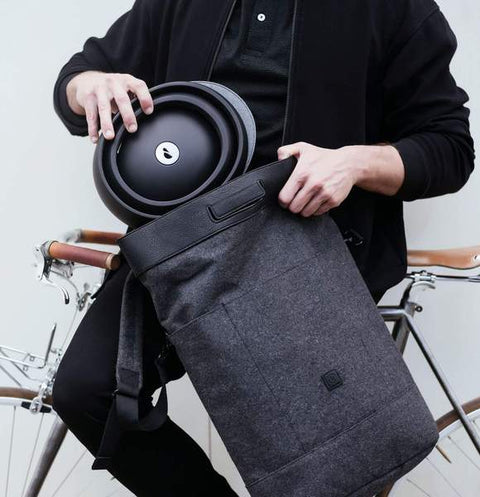 Closca
Helmet - CLOSCA
The bike helmet design for the city. Closca Helmet goes with you, dynamically adapting to your life. Closca Design recognizes those who strive to make our cities better places to live and grow. A sleek, adjustable bicycle helmet designed to keep you safe and enhance your urban style.
Technical details : 
- Portable, reduces its volume by more than 50% when folded, becoming as flat as a book.
- Double safety certificate, Closca helmet surpasses the strictest international safety certifications in USA and EU (CPSC & EN1078). The helmet stays locked and secure while on your head.
- Innovative ventilation system 
- Sleek and customizable, the helmet that became fashion. Embrace your uniqueness by customizing your helmet with Closca's interchangeable accessories.
- NFC Connected
- Incredibly light, weighing 250g-290g (S-L)
Colors : 
Black or White 
Sizes : 
S = 51 - 55 cm 
M = 55 - 58,5 cm 
L = 58,5 - 62 cm 
Delivery time : 
on stock 2 - 4 days 
*products displayed on the website may be subject to stock availability